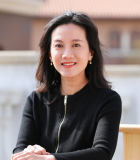 Ms Wendy Weng
Deputy Head, Dehong Beijing Kindergarten
Ms. Weng Zheng graduated from Beijing Normal University, with a bachelor's degree in Early Years Education. After that, she completed the master's degree program in Early Years Education theory at Capital Normal University. And she obtained the qualification of LEGO instructor training and had the experience of BIEA's CPD certificate-The Continuing Professional Development.
Ms. Weng has nearly 27 years of experience in preschool education. She worked as the class teacher and director of Chinese teachers of early years department in Yew Chung International School of Beijing, and also headteacher/Chinese curriculum manager/Academic director in Windsor Bilingual Kindergarten. Windsor Bilingual Kindergarten is the sister school of the well-known Dulwich College Beijing, whose profound international education background is the foundation of Windsor's becoming the world's highest quality preschool education. Adhering to the concept of holistic education and shared idea and teaching practice of Early Years Foundation Stage (EYFS) with Dulwich College Beijing merging in traditional Chinese culture, language and favourable education tradition, Windsor has formed a unique curriculum system and educational program of great harmony.
Ms. Weng is not only familiar with the operation mode and characteristics of Chinese kindergartens, understand early years education system and policies, but also international education concepts and school management processes. This has enabled her to show the advantages and make contributions in the process of effectively integrating the EYFS with the Chinese kindergarten curriculum. At the same time, She has accumulated a lot of experience in teacher training and mentoring, parent communication, and multicultural challenges.
---