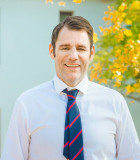 Mr Nigel Barrett
Head of Elementary School, Dehong Beijing
Nigel hails from New Zealand and is the Head of Elementary School. He has more than 15 years of management and front-line teaching experience in the field of international education, having worked at international schools in Kenya and Brunei as well as serving as Deputy Head of primary schools at two prestigious schools in Asia, Dubai Nord Anglia and the British school in Manila, Philippines. Nigel also worked as the Principal of the primary school of Cambridge International School in Kampala, Uganda under the umbrella of the GEMS Eeducation Group.
Nigel holds a bachelor's degree in Education and Teaching from the University of Canterbury in New Zealand and a master's degree in Education. Nigel is also a School Reviewer for the Council of British International Schools serves British International Schools (COBIS) International School Council.
Nigel is passionate about education and was attracted by Dehong's teaching philosophy and vision. He joined the Dehong Beijing founding team in August 2019.
---