Dear Dehong Students,
Today, we were supposed to meet again but an unexpected out break delayed your return to our beautiful campus and let your teachers continued to miss you. I think in this long winter holiday, you must have grown taller, must have gained a lot of knowledge, and perhaps mastered some new skills. Although we can't meet each other on campus as planned, you can meet with teachers and classmates online and study together from today. We're far away, but we're always connected, aren't we?
In the New Year term of 2020 Spring Festival, Principal Zhou would like to give the children nine expectations: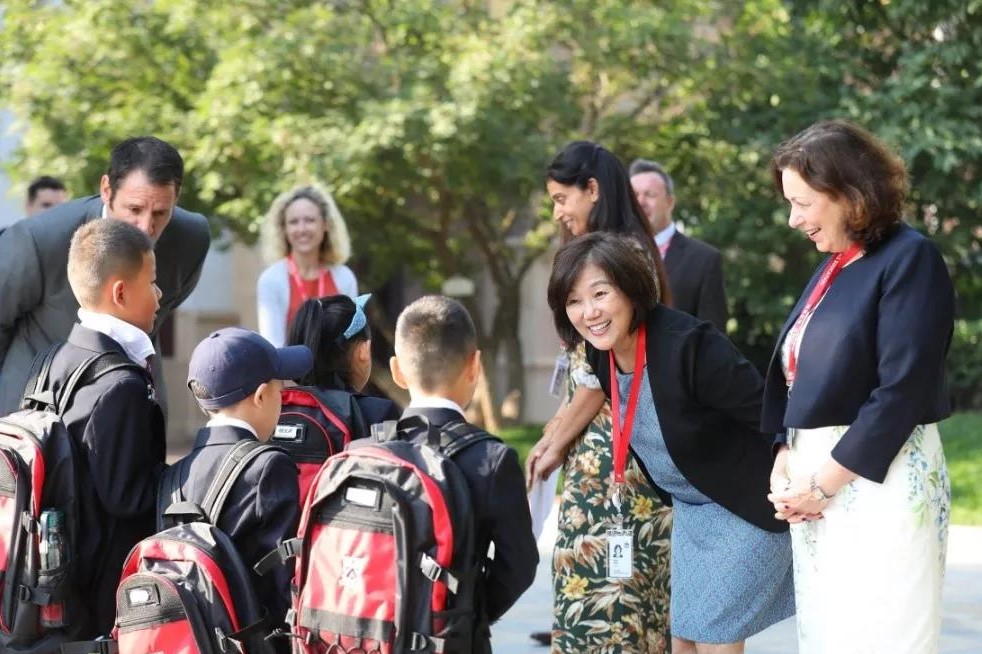 Health
Love sports, healthy diet, good hygiene habits are the foundations of a healthy life. If you can still maintain a regular daily routine even you are not following school rules, then, congratulations, you are maintaining a healthy lifestyle. Only having a healthy body, you can go to see this amazing world, to experience the wonderful life.
Happiness
Learn to find ways to be happy in any situation. Life is bound to encounter difficulties, frustrations and setbacks, but it does not matter because everything has two sides. Like this epidemic disaster, it's a crisis, but it's also an opportunity to learn a lot of things that we don't normally think about, like how to make the world a better place with fewer crises in the future? Just like playing a game and beating a monster to receive a gift, happiness is always accompanied by hard work.
Kindness
You already know that the world is not always good, that there are incurable diseases, that there are gray skies, and that there are evil people. Just as there is sunlight, there are shadows. This is a very normal state of affairs. Although we have not changed much about it, we still need to keep a kind heart. That is where the warmth comes from. Kindness is understanding, kindness is not to discriminate, kindness is inclusive. Every little thing you do will send a warm message to the whole world and will eventually warm yourself up.
Respect
Every life is precious and exists in its own form. Flowers, trees, fish, insects, birds and animals, all natural things are worthy of our love and respect. Only with respect we can truly live in peace with nature and protect the environment we live in.
Brave
When I say Brave, it doesn't know being brave in a battlefield. It means one can face its own shortcomings, willing to improve these shortcomings. It means is not to follow others, have its own opinions and judgment, tell the truth, under no circumstances do not tell lies. We are all not perfect people, if one can be brave enough to stand up and face his own mistakes, take responsibility, and say "sorry", it is also brave!
Heal
In the vast world, there are many species when encounter injury, they can self-heal. As mankind, we should do the same. We always encounter something beyond our control. When it is difficult for us to choose and change our situation, we should learn to change our way of thinking and heal ourselves.
Learning
Each stage of a person's life will have different tasks, only "learning" is throughout life. Learning is not limited by time and space, not limited by the region, not limited by the mood. As the next few weeks, even if you are not in the classroom, as long as you want to learn, everywhere will become our happy classroom. Learning makes you strong and makes you happy.
Labour
Labour is a kind of physical and living ability. It is as important as art, sports and other disciplines, we need to learn, to practice and master. At home to do ones' own housework, is also something we need to learn and excel at. Do you know how the food is prepared? Do you know what vinegar is used for apart from cooking? Do you know what the average weight of an egg is? How many household appliances do you use? Do you know how to organize your drawers and rooms and make things look better? You will find that these cannot be learnt from book, but you will learn to appreciate the infinite fun, doing chores can make you strong and full of charm.
Persistence
Set your goals and adhere to it. Give up is too easy, persistence is the real cool. Every minute you have been working towards your goal, will not let you down!
I believe that we will meet in the spring campus soon.
Love you!