We are thrilled to announce that the Dulwich College International network set a GUINNESS WORLD RECORDS™ title for "Largest environmental sustainability lesson (multiple venues)" on October 30. Themed "Living a Sustainable Lifestyle", the lesson demonstrated the importance of environmental protection and conveyed the message that each person can and should effect tangible positive change.
3,006 students took part in the lesson across the network, including 23 students from our school who travelled to Dulwich College Beijing to take part as official participants.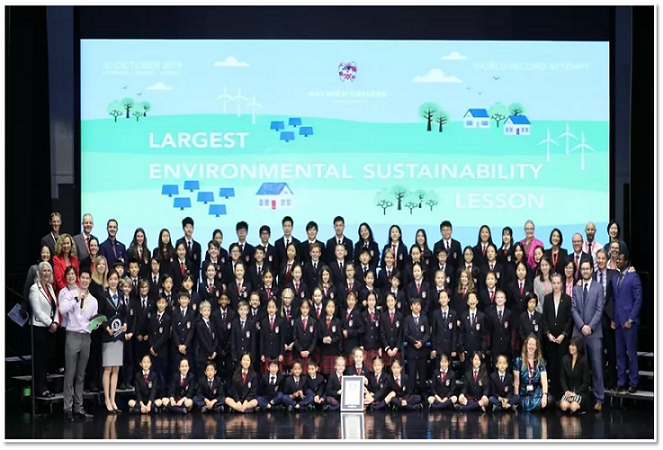 "Our vision is for our students to Live Worldwise – to have the skills and motivation to make a positive difference in the world," said Fraser White, Founder, CEO and Chairman of Dulwich College International.
"The environmental issues facing our planet are both a challenge and an opportunity. It is our responsibility to create future leaders who will champion sustainability across the globe but this also gives us an amazing chance to find new ways of working and new ways of teaching. The Largest Environmental Sustainability Lesson at Dulwich is a collaboration between the school and our students so they are engaged in designing and directing the learning experience. We're proud that this collaboration that the students co-designed has created a movement across all our campuses in Asia and clinched a world record."
What Teachers Said:
Ms. Gui Banzhuren of Grade 3 Class 1
"This is a very meaningful lesson. Everyone was immersed in the joy, excitement and awe in the activity. To protect our planet, we start from individual people, we start from each single family… Although the lesson is over, we have started significant learning - to protect our planet, start with everyone and every family... We will be the humming birds, we will do the best we can."
Mr. Taylor EML Teacher
"Grade 3 enjoyed a fantastic morning, working with our extended Dulwich family around the world. It was a privilege to be part of such an impressive world record attempt and we all took away some powerful life lessons. One of the biggest takeaways for me as a teacher was that we can all contribute to a better future with our own teaspoon of change."
Mrs. Hussain Dehong Beijing Sustainable Lead
"What an amazing morning, to be part of the Guinness World Records and for such a noble course, doesn't get any better than that really. The thoughts, opinions and sheer determination to make a difference shown by our pupils gives me much hope for the future of our beautiful planet.

What Students Said:
Yang
As long as we make a small contribution, the earth will become more beautiful.
Li
So many people are participating together, very spectacular. We are doing something very meaningful.
Liu
I am very excited because we broke the Guinness World Record and I have met many good friends.
The lesson also serves to kick off "Sustainable November" – a larger month-long movement encouraging sustainable living across the Dulwich network. Through this activity, Dehong Beijing will encourage students, staff and parents to stay committed to the pledges they made as part of the lesson and support one another in building habits to make tangible and permanent change.
Even with small changes, we can make big impact on protecting our planet.
Let us take actions right now!