Academic Framework
Each child's development is unique

Based on Guideline To The Learning And Development Of Children Aged 3-6 and the Early Years Foundation Stage (EYFS)
In Dehong Kindergarten, we follow Guideline To The Learning And Development Of Children Aged 3-6. As sister schools to Dulwich College International schools, Dehong refers to the Early Years Foundation Stage (EYFS) framework in the English National Curriculum in kindergarten stage as DUCKS. We believe each child's development is unique and is at the core of everything we do.
According to EYFS framework, children develop when they are:
Engaged in playing and exploring through finding out and exploring, playing with what they know and being willing to 'have a go.'
Motivated to learn through activity being involved and concentrating, keeping on trying and enjoying achieving what they set out to do
Interacting with themselves and the world around them through creating and thinking critically, having their own ideas, making links and choosing ways to do things
Our approaches to support each child's development:
They focus on formative assessment during processes through observation and make informed decisions to intervene.
They take a key-person approach, weaving a network of trust, safety, and care for students' holistic development.
They build inviting environments that engage students in meaningful activities, provoke thinking, and scaffold student development.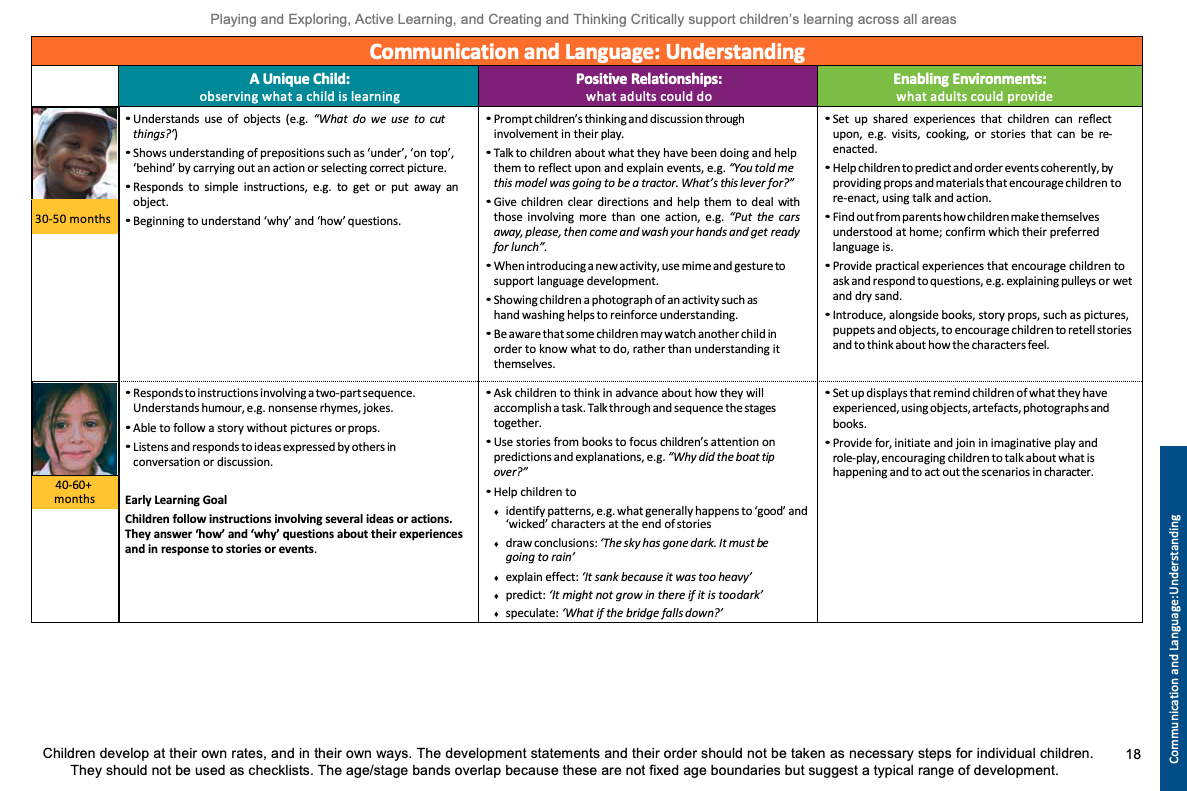 (Dehong Kindergarten Development Statements)
Overarching principles and focuses in Dehong Kindergarten:
A Unique Child, observing what a child is learning
Positive Relationships, what adults could do
Enabling Environments, what adults could provide
From Reception to Pre-School
Getting ready for Dehong Elementary School
The gradual changes from the Reception to the Pre-School aims to support the transition from a play-based to semi-formal classroom setup to prepare students for future schooling experience.
In Dehong Kindergarten, we also incorporate inquiry-based learning which continues in elementary. Students will have the opportunity to explore transdisciplinary themes. The Dehong Kindergarten themes are in line with the themes in the elementary school inquiry programme while the conceptual lenses lead to the concepts inquired in the Elementary School inquiry programme.

(The conceptual lenses are subject to review)
Bilingual and Bicultural
Enabling students to Adapt, Think and Change Perspectives
At Dehong Education, our strategy is to develop excellence in Bilingual and Bicultural Education and in Dehong Kindergarten, we enhance the EYFS framework with bilingual and bicultural development opportunities.
We believe a bilingual and bicultural education enriches children's development through:
Enhanced linguistic competency as they switch codes in a dual language environment
Heightened intercultural awareness as they adopt appropriate cultural practices in a dual cultural environment
Increased adaptation as they observe, choose, and decide to deploy an appropriate linguistic and cultural repertoire
In Dehong kindergarten, our teachers emphasise both Chinese as mother tongue and English as an additional language in each child's development. They integrate cultural values, beliefs, attitudes, and behaviour into bicultural learning environments.
We will provide students bilingual and bicultural learning environment according to areas of learning and development in required in EYFS framework.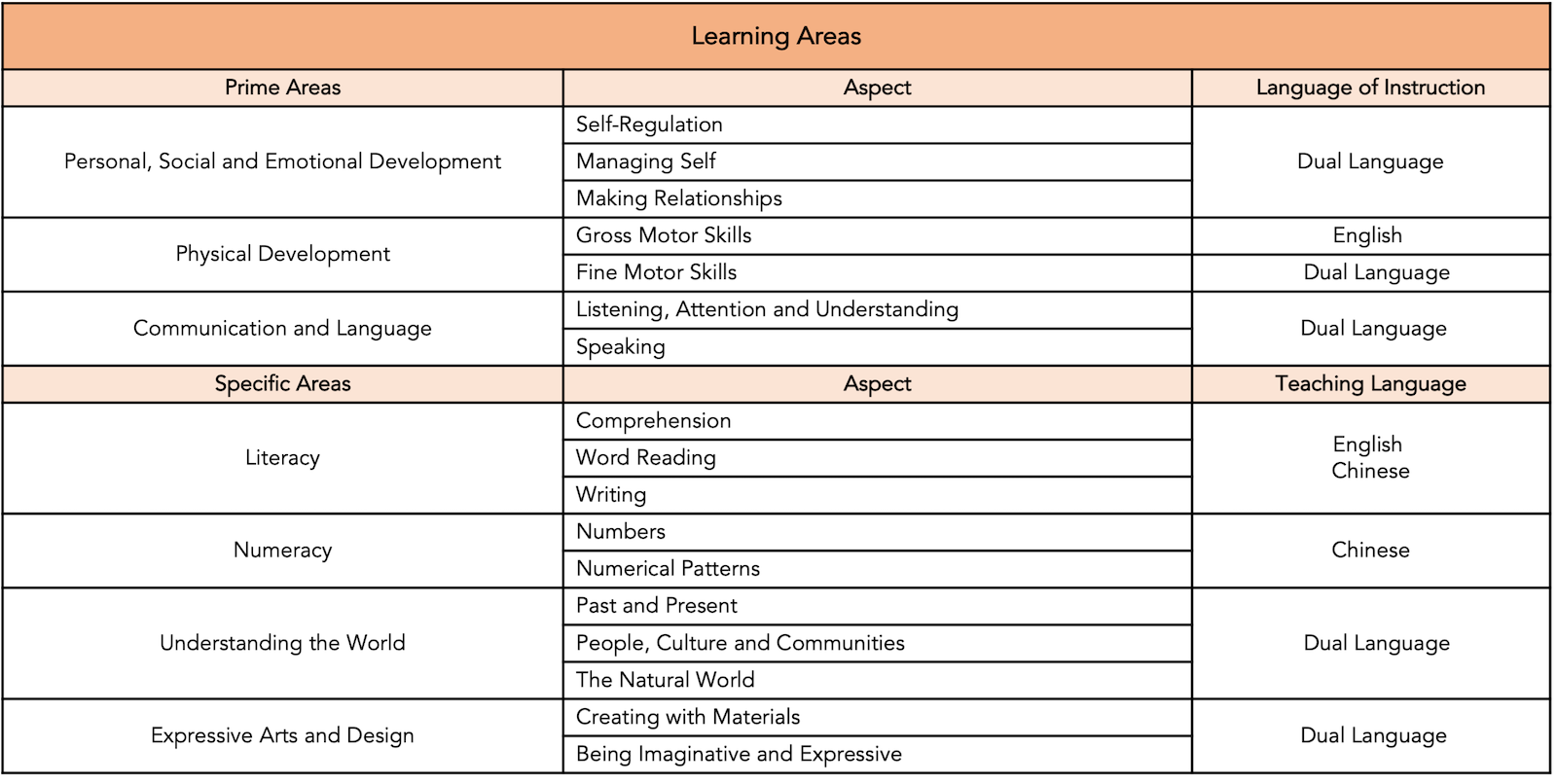 (Areas of learning and language learning environment for kindergarten students)
There will be different language proportions according to the different age groups, enabling them to gradually adapt to a Bilingual and Bicultural learning environment.

(Predicted Weightings of Language Proportions)
Dehong teachers come from many different cultural backgrounds and bring rich teaching experiences. Our international teachers are from English speaking countries like UK, US, Canada and Australia. All of them have teaching experience in their home countries and non-English speaking countries enabling students to get interdisciplinary experiential experience and study in a diverse and real-life environment. International teachers will guide students to apply the knowledge and skills they have learned comprehensively. As for our Chinese teachers, all of them have rich early childhood education experience in well-known institutions in China and focus on supporting students develop their learning skills and behaviours, enabling them to lay a solid foundation of mother tongue and subject knowledge.
Through Dehong's Bilingual and Bicultural Education, students can immerse in diversified international culture and get ready for their learning journey at Dehong in the future.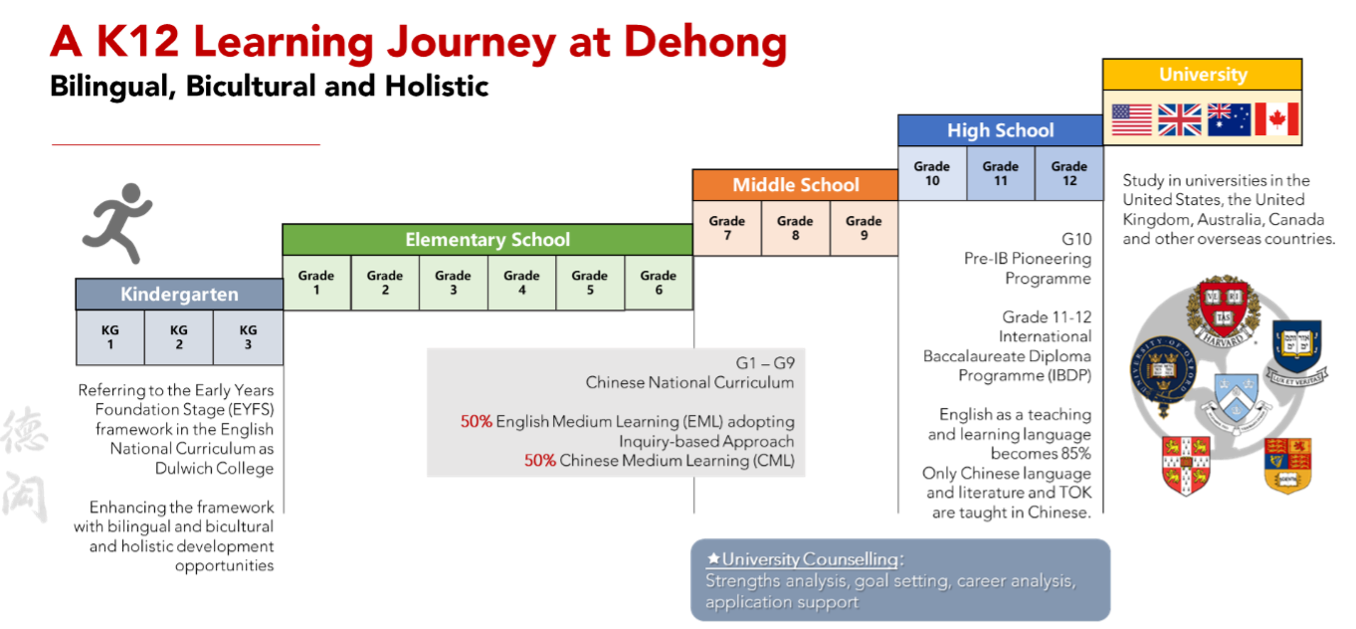 Student Story
Wang Liwen joined Dehong Kindergarten Nursery class at age three. On her first day, she was scared to leave her parents and join in with the other children. Her teachers prepared many free play areas to spark her curiosity. She found herself drawn to the sand area, where she began to build a sandcastle. Her teachers talked to her about what she was creating, using English and Chinese to help her find the words to express her feelings. Liwen feels safe and supported as she trusts the adults in her environment. She also knows who to approach when she needs to talk about something. Her parents, grandparents, and carers feel the same way about supporting Liwen in partnership with Dehong Kindergarten.
Day by day, Liwen's vocabulary in both languages grew. She found friends who shared her interests. Her body became stronger and her spirit more confident as she jumped and climbed around the playground. At first, Liwen only glanced at the pictures in books. Over time, after she experienced more hands-on activities in the real world, her interest in books and reading grew. She learned to read English and Chinese words – not just because her teacher told her to, but because she knew that stories were fun and exciting.
As Liwen finished her last year of kindergarten, she was eager and excited to move to primary school. The social and emotional skills she learned in kindergarten, combined with her strong academic foundation in both languages, prepared her to take on new challenges.