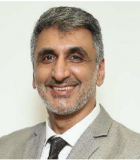 Mr Rajeev Sharma
Head of Secondary School, Dehong Beijing
Rajeev Sharma (Raj) is a forward-thinking educational leader, intrinsically motivated to provide holistic education for students in his care. He combines his love for education, compassion, and empathy to connect with students from diverse and multi-cultural backgrounds.
With an engineering and training background, a natural ability in Mathematics and curiosity to learn. Raj trained as a secondary teacher in the UK and has over 20 years' experience in education, including 9 years in a leadership capacity in the roles of Head of Secondary and Deputy Principal. Raj has further experience as a Learning and Development Manager, Mathematics Teacher, Dean, Student Progress Manager, and Technical Trainer. While his teaching career began in the UK, he has taught extensively in New Zealand and more recently in Malaysia.
Raj holds a Master of Professional Studies in Education (Hons) from the University of Auckland. This was underpinned by a solid academic and professional development foundation, including the completion of the National Aspiring Principals' Programme at the University of Waikato.
Raj has an intrinsic love for education, driven by his passion to guide students to be great people, exceptional at what they do, as lifelong learners, and prepared for the modern world. Raj is a people orientated person, and loves to be surrounded by new cultures and experiences.
Whilst born in the UK, Raj migrated to New Zealand with his wife and two sons. It has been his home since 2007, igniting his passion for the outdoors where he enjoys cycling and utilises his engineering skills to refurbish bikes.
---